Supporting the local economy
The vision for an Innovation Quarter can support both the local economy and the two Universities  making a huge positive impact for our area. It is a significant opportunity to bring together the community, academics, students, clinicians, innovators, and entrepreneurs and act as a catalyst to attract digital, health and creative industries to Bournemouth and Poole.
The Innovation Quarter, with its close proximity to the University and local schools, and sustainable transport links, presents unique opportunities for the young people of Bournemouth to live and work locally, so talent is retained in the region. 
The Innovation Quarter will provide a significant economic boost to the whole of Dorset in respect of skilled job creation, economic output and increased local expenditure. These benefits have been quantified by a leading economic consultant, who have concluded that the Innovation Quarter would generate:
940 jobs supported by the Innovation Quarter, of which 322 would be additional to Dorset


Generating a significant economic output of £67m per annum during construction, of which £33m a year would be retained here in Dorset. 


Greatly increasing the number of high-skilled and professional employment opportunities here in Dorset, with jobs at the Innovation Quarter expecting to generate an average hourly wage of £22.47.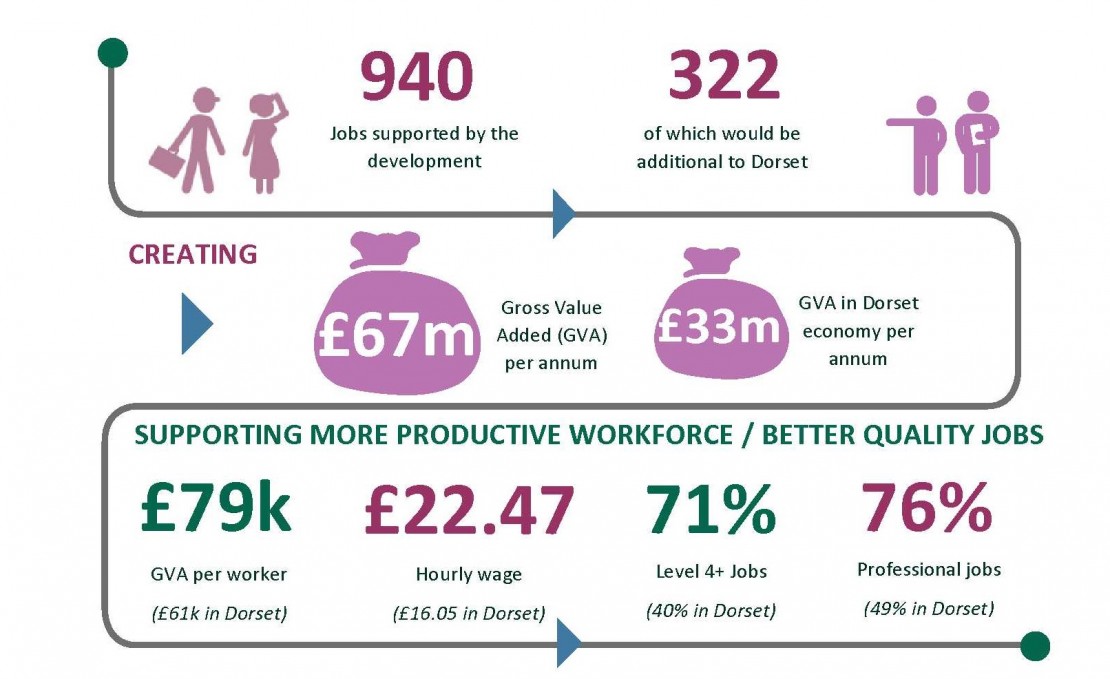 Infographic showing annual economic impact from Innovation Quarter when operational 
The construction phase will also represent a significant boost to the local economy, generating in the region of 825 jobs during construction and a construction value of £83m of which over £42m will contribute to the local economic output. 

Infographic showing economic impact from construction of Innovation Quarter
A New Nuffield Health Hospital - Economic benefits
There are several economic benefits that a new hospital would deliver including:
Increased jobs
The new Nuffield Health Hospital will result in increased employment in BCP


The existing hospital currently employs 325 local residents


With a new hospital, Nuffield Health would look to recruit an additional 40 to 50 staff for roles including but not limited to porters, housekeeping, admin and nursing
Increased investment into BCP
£86m investment into local healthcare infrastructure


The build of the new hospital will deliver a £50m investment into the regional construction sector, with partnership opportunities for local SME's. It is estimated this investment will generate 19 new construction jobs and the potential for new apprenticeships. Nuffield Health is committed to selecting the right construction partner to deliver these benefits to the local economy


Increase in medical tourism to the county as a result of Nuffield Health Bournemouth's research