About Nuffield Health
Nuffield Health is the UK's largest healthcare charity. For the last 65 years, Nuffield Health's experts have been working together to make the nation fitter, healthier, happier and stronger, all for the public benefit.
As a trading charity, Nuffield Health invests all its income back into its purpose to build a healthier nation. It delivers on this through its day-to-day services in 37 hospitals, 114 fitness and wellbeing centres, healthcare clinics, and over 200 workplace wellbeing services, and through a series of flagship programmes.
The Bournemouth hospital was Nuffield Health's first hospital opened in 1957. It currently employs more than 300 local professionals. The Nuffield Health Bournemouth team treat an average of 65,000 patients each year and, during the COVID pandemic, cared for thousands of NHS patients. Nuffield Health Bournemouth continues to support the local NHS Trust as part of the wider healthcare community response to the pandemic.
Nuffield Heath has the strongest links with the NHS today that it has ever had. Medical and healthcare professionals across the organisation and beyond perceive there to be a huge opportunity for the independent and public sector to continue to work closely for the benefit of all patients.  
Being more efficient across its portfolio of hospitals is a priority for Nuffield Health, particularly in response to the pandemic backlog and the growing and aging population. Diseases including cancer, heart disease, and diabetes continue to grow, with a predicted 10 million people waiting for treatment by autumn 2022 (Source; NHS Providers). With a greater need for services as people are living longer and facing increased long-term conditions, demand is highly likely to increase.
For Bournemouth, a new hospital will future proof the charity's ability to deliver healthcare and wellbeing services that are needed by the local BCP (Bournemouth, Christchurch and Poole) community and to support the wider local healthcare system, including supporting NHS.
Nuffield Health believes that the best healthcare should help prevent illness by looking after mind and body. It connects mental health support to hospital care to personal training, health assessments, GP services and physiotherapy.
The healthcare charity provides free health and wellbeing programmes in local communities across the UK by giving more people the tools they need to live a healthy life. These programmes help people understand and improve their own health, from those living with joint pain, to helping rehabilitate people experiencing the long-term effects from COVID-19. In 2021, Nuffield Health impacted the lives of 1.55 million people through its range of services and programmes.
Nuffield Health Bournemouth is looking forward to sharing its plans for a new, first-of-its-kind hospital that will allow the team to extend its support, care and provision for patients and the people of BCP. In addition, it will enable Nuffield Health to enhance its leading medical research through new technology and additional research space.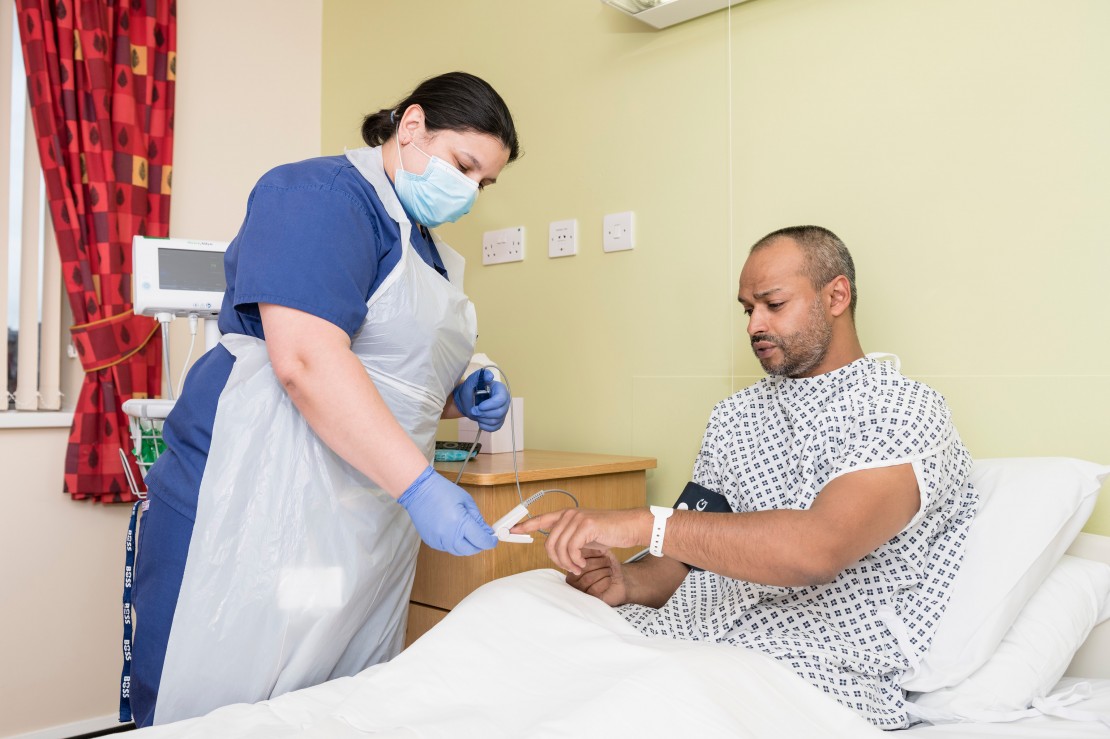 The need for a new Nuffield Health Hospital in Bournemouth
There are several important factors driving the need for a new Nuffield Health hospital in BCP. Nuffield Health has been looking for over eight years to find a suitable site in Bournemouth to build a leading and pioneering new hospital. Given the urgency to provide greater healthcare capacity in Bournemouth, Nuffield Health is pleased to have found a site that has been earmarked for development for several years. Previous sites investigated have not been viable for the hospital that is required to meet community demands.
Firstly, a new facility is required to meet changing community needs:
The current hospital simply does not have enough capacity to service the local healthcare community. While there is the resource to deliver more healthcare in BCP, the current hospital does not have enough physical space to do so


The waiting list for private healthcare is building, especially following the pandemic


During the COVID pandemic, Nuffield Health Bournemouth Hospital has cared for over 15,000 NHS patients and it continues to support the local NHS Trust. At present, the existing hospital cannot offer the NHS the capacity it would like to be able to, to help work through the backlog of patients successfully
 
The existing Nuffield Health Bournemouth Hospital was the first Nuffield Health hospital in the UK. Opened in 1957, the facility now requires modernisation:
Nuffield Health Bournemouth spends 100% more on maintaining the building than any other Nuffield Health hospital in the UK due to its age. This is compounded by the fact that the current building was never a purpose-built hospital, instead a series of houses moulded together


The needs of the local community have changed significantly since the current hospital was opened and therefore the Nuffield Health facilities in BCP need to be brought up to modern standards


This is an opportunity to give local healthcare professionals and community the space they require and deserve


As of June 2022, the existing hospital is of 'good' standard according to the Care Quality Commission, an improvement on the 'requires improvement' rating it has been given in recent years. A new hospital will allow Nuffield Health the opportunity to offer an 'excellent' facility as achieved in other locations such as Cambridge


At present, the existing hospital does not have the space to offer Nuffield Health's community programmes that are free for local people to access. A new hospital would allow these services to be delivered in Bournemouth, to support Nuffield Health's mission as a charity to make the nation fitter, healthier, happier and stronger
Additionally, even within its existing restrictive facility, the Nuffield Health Bournemouth hospital team, in conjunction with Bournemouth University, is undertaking leading research that is influencing medical practice, particularly in joint replacement, worldwide:
A new hospital will allow for these research programmes to be developed and undertaken, resulting in more efficient, streamlined and user-friendly procedures and treatments for patients across the globe


Please note that, like the existing facility, the new Nuffield Health Bournemouth will not have an emergency department. 
Benefits case
The new Nuffield Health Bournemouth hospital will become known as a destination of clinical excellence
Bournemouth was Nuffield Health's first location opened over 65 years ago and is therefore a legacy hospital for the healthcare charity. Given this, Nuffield Health are excited to champion this location by opening its first-of-a-kind flagship hospital in the area.
The new hospital has been designed to be the most modern, high-tech and sustainable hospital across the charity's 37 hospitals, and will be a blueprint for future Nuffield Health hospitals. The new building and site layout will align with the highest environmental and sustainable standards that Dorset is setting.
Nuffield Health hopes that this new hospital will be one of the most efficient hospitals in the UK. To achieve this, a specialist sustainability consultant will be involved in the design of the hospital to ensure such principles are embedded in the approach.
The proposed Nuffield Health Bournemouth Hospital will be designed as carbon triple net zero building (waste, water and energy)


The hospital will be an all-electric building maximising the use of solar energy, highly insulated building fabric, heat pumps and smart controls


Nuffield Health is aiming for this hospital to achieve Platinum in the WELL Certification scheme that showcases healthy buildings. The new Nuffield Health in Bournemouth could be the first hospital in the UK to gain this accreditation


This project will enable Nuffield Health to review its whole supply chain delivery and support model, such as the use of electric vehicles for distribution of surgical instruments to/from the site from regional HSSU hubs
Nuffield Health in Bournemouth already has an excellent reputation for its research that is influencing the medical profession worldwide. The hospital has a long-standing partnership with Bournemouth University.
Through this collaboration, local teams are changing the healthcare landscape, particularly in joint replacement:
Together, these teams have introduced MAKO robotic hip replacements and are now delivering more of these surgeries than any other hospital in Europe. With a new hospital, the capacity for these operations will only grow


There is an opportunity for joint replacement research to be expanded by providing new, class-leading facilities within the new hospital
A new hospital will allow Nuffield Health and Bournemouth University to collaborate even more
Co-location with Bournemouth University is important for strengthening links between the two organisations and maximising the collaborative opportunities available.
In addition to the research detailed, Nuffield Health and Bournemouth University also:
Offer Gait analysis which uses state-of-the-art computer technology to assess the way the body moves, usually by walking or running, from one place to another. The purpose of gait analysis is to detect any abnormalities in locomotion. A new Gait lab at the new Nuffield Health Hospital will integrate physiotherapy and trial monitoring, saving patients time and journeys. The Gait lab is powered by software created by Bournemouth University teams and students.


Undertake important research into the clinical effect of 'Never Events' on patients, consultants and theatre staff. Never Events are accidents and incidents that should never happen, but have the possibility of happening, such as surgery being performed on the wrong knee. Having been spearheaded by Professor Kevin Turner and sponsored by Nuffield Health for five years, with another five years already agreed, the research seeks to understand the impact on individuals following a 'Never Event'. This research will be integrated into day-to-day practice across the UK to improve patient and staff welfare in these rare circumstances.


Offer enhanced and quality student training opportunities for both medical and allied health professional students. In turn, this allows for additional qualified health professionals to be available to the community, improving care for the area long-term.
 
Economic benefits
Increased jobs
The new Nuffield Health Hospital will result in increased employment in BCP


The existing hospital currently employs 325 local residents


With a new hospital, Nuffield Health would look to recruit an additional 40 to 50 staff for roles including but not limited to porters, housekeeping, admin and nursing
 
Increased investment into BCP
£86m investment into local healthcare infrastructure


The build of the new hospital will deliver a £50m investment into the regional construction sector with opportunities for local SME's. It is estimated this investment will generate 19 new construction jobs and the potential for new apprenticeships. Nuffield Health is committed to selecting the right construction partner to deliver these benefits to the local economy


Increase in medical tourism to the county as a result of Nuffield Health Bournemouth's research activity and associated expertise
Societal and healthcare benefits
Free community outreach clinics:
A new Nuffield Health hospital in Bournemouth would allow BCP residents to access Nuffield Health's reputed community outreach clinics including the stamina clinic for prostate cancer patients and Nuffield Health's free joint pain programme. The charity also run a specialist 12-week COVID-19 recovery programme and works with NHS Trusts to encourage children and young people with cystic fibrosis to take part in exercise to improve their health.
 
Nuffield Health also runs a successful School Wellbeing Activity Programme (SWAP) The programme is designed to give students the tools they need to manage their wellbeing. The target age range is 9-12 years old, but the programme can be adapted for other school age children.
The NHS and wider healthcare backdrop:
During the COVID pandemic, Nuffield Health Bournemouth cared for over 15,000 NHS patients and continues to support the local NHS Trust as part of the wider healthcare community response to the pandemic.


Medical professionals across the charity believe there to be a huge opportunity for the independent sector to support the healthcare of NHS patients.


A new hospital in Bournemouth will increase the capacity to treat patients in Dorset, meeting rising demand and helping to reduce waiting lists.
Responding to the healthcare needs of today and in the future:
The heart clinic at Nuffield Health Bournemouth Hospital provides rapid access to a wide range of cardiology services and in a new hospital will be able to expand its assessment and treatment of cardiovascular disease


Patients in BCP would have access to a brand new, state-of-the-art centre that offers first class healthcare from top cardiologists to patients in a safe and caring environment


A new hospital would future-proof Bournemouth's Nuffield site ensuring it is fit for purpose to support the aging demographic of the region


Expanded eye care treatment centres
What happens to the existing NH hospital? 
It is anticipated that the build of the new Nuffield Health hospital would take 24 months. During this time, Nuffield Health will continue to operate from its existing site as usual and only move across when the new hospital is fully finished and operational.
Longer-term, Nuffield Health will sell the existing property to a suitable buyer, in order to release funds to reinvest into the charity. Any plans for the existing site will be discussed with BCP Council and relevant stakeholders before firm decisions are made.