You can explore the proposals by clicking on the different elements of the plan below 
Interactive site plan
Tisbury Community Homes is bringing forward outline proposals for a mixed use development of new family homes and Care Home at the former Station Works site in Tisbury. 
The proposals would replace an existing outdated employment site with a high-quality and attractive development meeting the needs of the Tisbury community and reflecting the character of the town.
The proposals include:
A modern 70 bed care home providing a safe and secure home for older people within the village and providing approximately 120 jobs for local people in a range of roles. 
86 new high-quality dwellings, providing homes for all ages ranging from 1 and 2 bedroom flats up to 4 bedroom family homes and 3 and 2 bedroom homes for smaller families, downsizers and professionals. 

12x 1 & 2 bedroom flats

42x 2 bedroom houses

29x 3 bedroom houses

3x 4 bedroom houses
The proposal provides 86% of properties as houses and 14% as flats which reflects the local need for houses rather than flats as identified in The Swindon and Wiltshire Strategic Housing Market Assessment 2017.
Generous private gardens as well as a new area of public open space for recreational and community use with views over the village 
Safe and dedicated vehicle access with separate pedestrian and cycle access from Jobbers Lane
Parking spaces provided for all dwellings and for the care home.
New and improved pedestrian and cycle routes to the village and improving access to the station
Access links to the local footpath network and countryside, a nature pond at the eastern end of the site, and specially designed lighting to avoid impact on foraging bats. No development on the grass bank to preserve this as a habitat for reptiles and other wildlife.
Land along the western boundary set aside for the potential future dualling of railway tracks or other improvements to the station.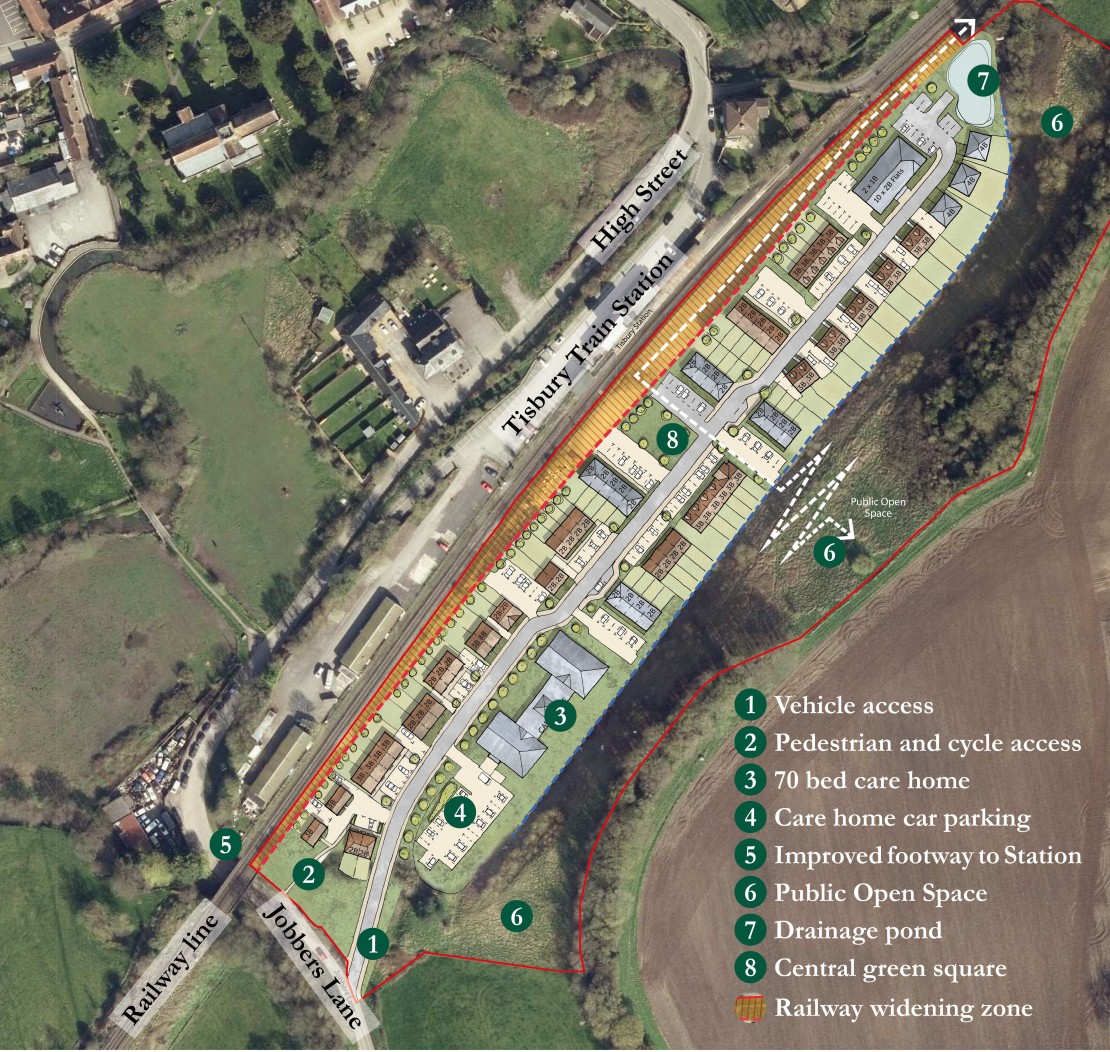 Static version of Proposed Site Plan